'55 Ford Y-Block Retrofit with a 1990 Mustang 75-Amp Alternator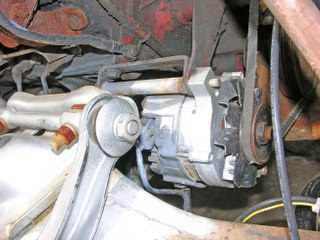 #1
This 1990 Mustang self-regulating alternator retrofit was done years ago.
It worked perfectly.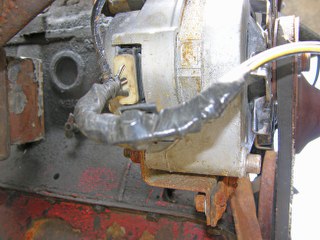 #2
This is shot from underneath. I probably should have made the "Z" bracket
mount to the front of the alternator. No matter, it works just as well and
being underneath, it's out of sight. This original belt is in good alignment.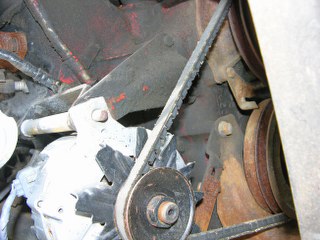 #3
This picture shows the adjustment bracket in the background. It's rusty now, but still works well.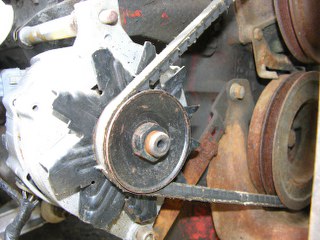 #4
Same shot, slightly different angle of the bottom bracket.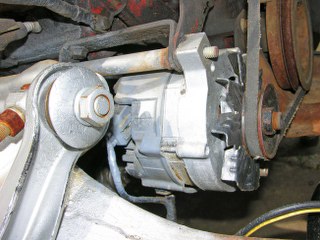 #5
The top spacer is 1/2" electrical thin-wall (E.M.T. conduit) with washers tack-welded on each
end. The alternator top mounting hole is threaded. I could have put a jam-nut on the end but
it isn't necessary.
The alternator is a lot smaller than the generator it replaced, so there is plenty of room
remaining.
Here is the schematic. Very simple, connect all the big power wires to +12, and the skinny
wire goes to the GEN (ALT, or BAT) light.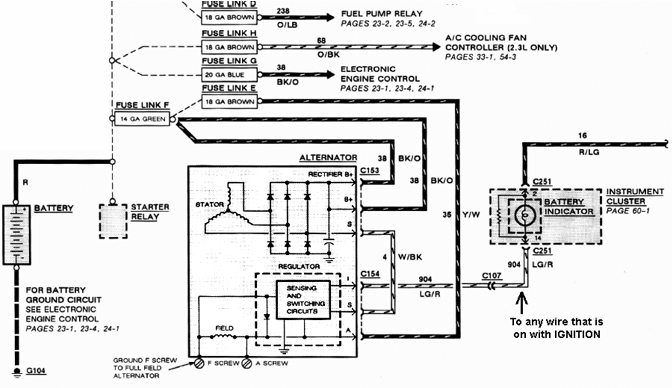 #6
All the big wires go to the same place; BATT +. The small wire is a 'sense' wire which
connects the BATT light. It senses the key is on, and turns the light on if you throw a belt.
More correctly, the BATT (GEN) light shines any time the battery voltage is greater than
the alternator voltage, like when you first turn the ignition key to 'ON'.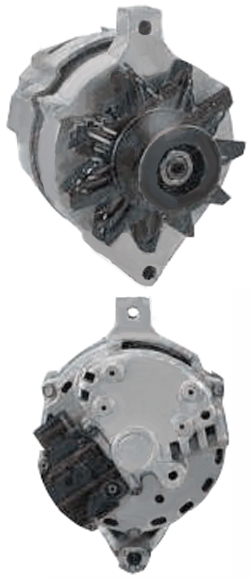 #7
Standard Alternator #7735. Brush holder is directly behind the regulator.