---
Dealer Nameplates
---
Fort Lee Motors (Ford Dealership)
New Jersey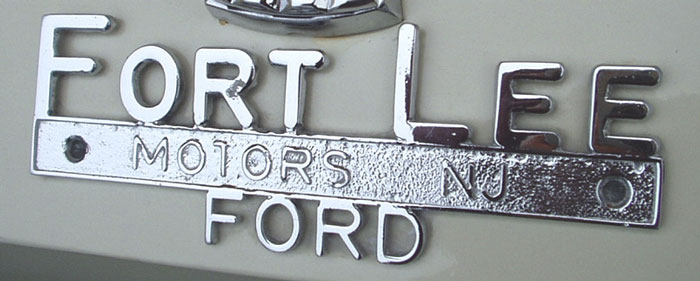 This is the dealer nameplate that is on the trunk of Eric Jones's 1960 Thunderbird Hardtop that came to Sweden in 1962. It is currently glued on, but was probably originally attached by rivets at the location of the holes. Center to center hole spacing is 115 millimeters(4 17/32 inch).
Fort Lee is in New Jersey. Fort Lee Motors is long out of business. There are no longer any car dealers in Fort Lee. There are two Ford dealers in the two neighboring towns that boarder Ft. Lee. Park Avenue Ford is in Tenefly (pronounced Ten-O-Fly) and New Jersey Englewood Ford is in Englewood New Jersey. Sandy Block, a former New Jersey based car salesman, has been in the car business here in the state since 1968, and he never heard of them. Obviously, Fort Lee Motors went out of business some time in the early sixties.
On American cars of that era it was common for dealers to attach cast pot metal nameplates. Alexander Sosiak's 1960 Golde Top has the holes and rivets for a nameplate on the trunk similar to the above, but the nameplate is long gone (spacing for the holes is 118 millimeters or 4 21/32 inches). Nameplates from dealers of that era are hard to find now since most restorers take them off when restoring a car. Recently, because of their rarity and historical significance, people are replating and attaching them on their cars during restoration.
It's neat to have an emblem from the dealer on the car's back, especially if that dealer is long gone. Like the car itself, the name tag can bring back memories.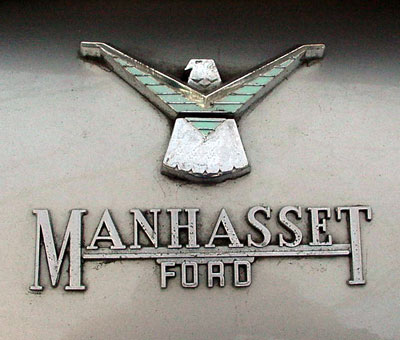 This chrome plated dealer nameplate is on Robert Tracz's 1958 Thunderbird Hardtop. It is apparently glued not riveted on. The dealership still exists. It is now called Manhasset Ford Mitsubishi located at 1225 Northern Blvd. in Manhasset.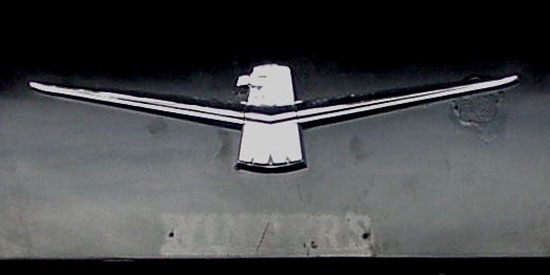 This is a shadow of a pot metal "Winner's" dealer nameplate that was once affixed to my 1960 Thunderbird Golde Top. No dealer currently named "Winner's" could be located in my search on the Internet. There is a Winner Ford in Alameda, California. Could this be the same dealership? (Thanks to Mel Waldorf for locating this dealership)
Thanks to Eric Jones and Sandy Block for contributing to this article. If you have a dealer nameplate on your 1958 to 1960 Thunderbird, we would love to see it. Send it in to the webmaster.