---
Squarebirds 1958-1960 Control Arm Installation
A mechanic friend put in new control arm bushings and ball joints in my 1960 Thunderbird Golde Top. That car had totally deteriorated upper control arm bushings. The rubber in them had disintegrated. It would literally shift on braking and on hard turns a half-inch either way. I only drove it on side streets. Now I can take it out on the highway. I'm happy.
This procedure is not easy and potentially dangerous. These cars have heavy springs. Mechanic Mike used a combination of a spring compressor and a jack to get the lower control arm in place. Alignment of the lower ball joint into the spindle took some effort. This car had never had any front suspension work since leaving the factory. After 76,000 miles the lower ball joints were still tight, but I replaced them since the assembly was apart.
A couple of things I noticed on disassembly. The upper control arms don't look like they were completely painted. It seems the control arm were dipped, and the the ball joint area was left bare. The linear division was apparent. I could not tell anything about the lower control arms, the paint was mostly gone. I choose to repaint the whole arms, since it looks neater.
Also there was a yellow marking stripe on the spring. The springs were marked to specify for weight car. Mine is a sunroof with a 352 and A/C. I recreated that. It makes a nice restoration touch.

Installed upper control arm. It can be removed without removing spring. No weight can be on car during procedure.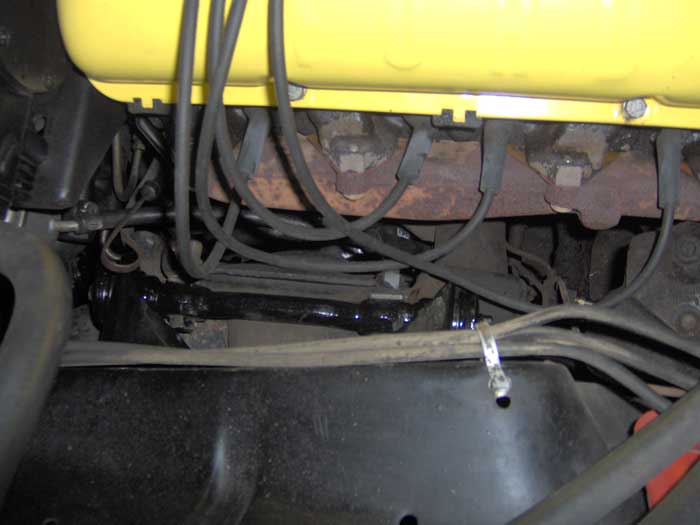 View of upper A-Arm shaft. Note shims for wheel alignment.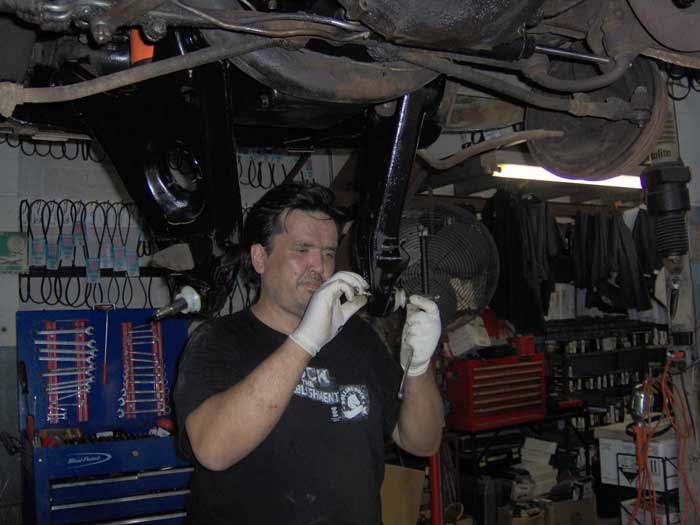 My friend, master mechanic Mike at work. He is a perfectionist.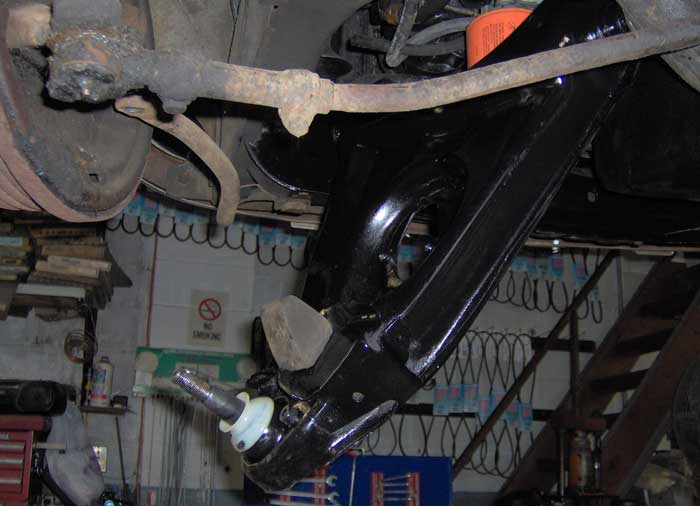 Newly painted lower control arm with new hardware ready for installation of the spring.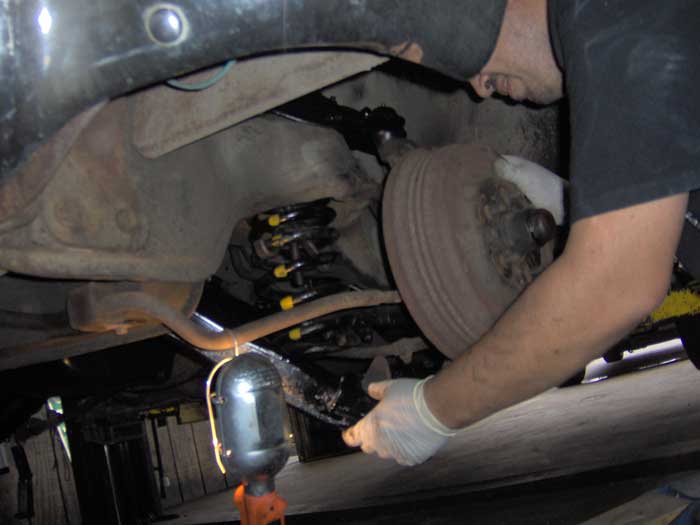 Positioning the lower control arm in place.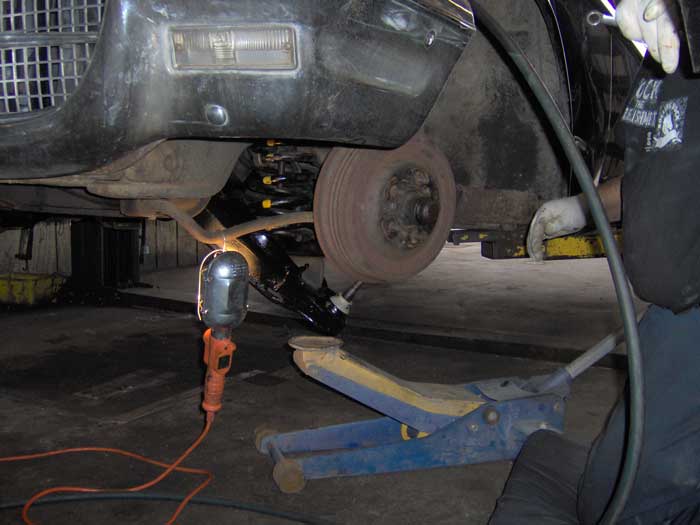 The lower control arm is raised with a floor jack to seat the ball join in the spindle.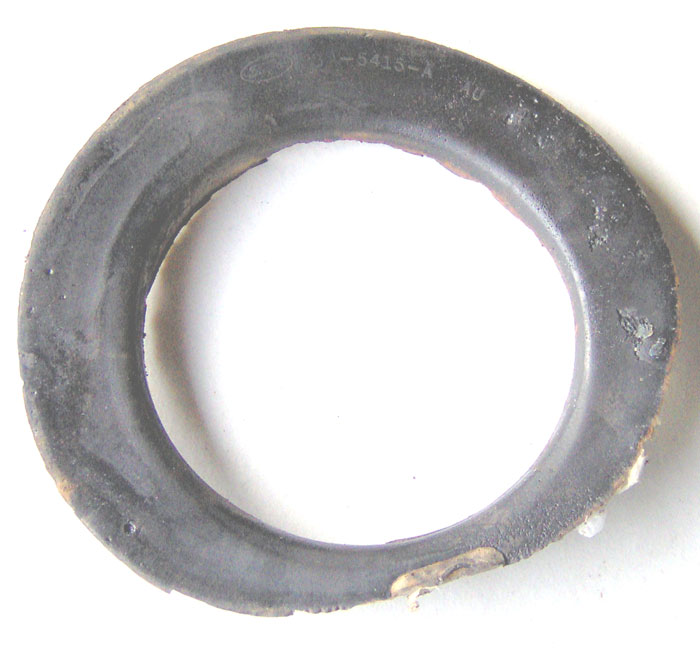 Original upper spring insulator. Deteriorated, but can still read the part number - B8A-5415-A. This a necessary piece to prevent squeaks. It is available in reproduction. You can also use the version for the 1955-57 Thunderbird. It is made of plastic not rubber and seems sturdier. My car had flat metal o-rings just under these insulators. They were probably used as spacers.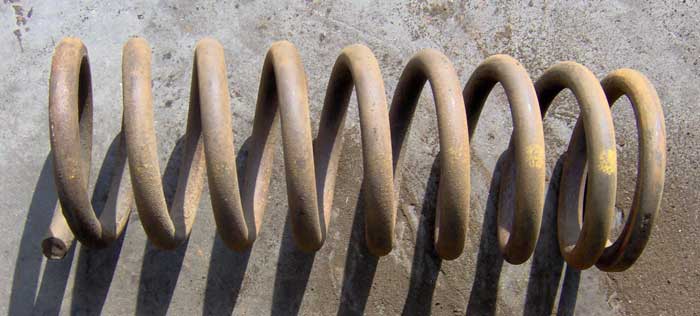 Original spring with stripe.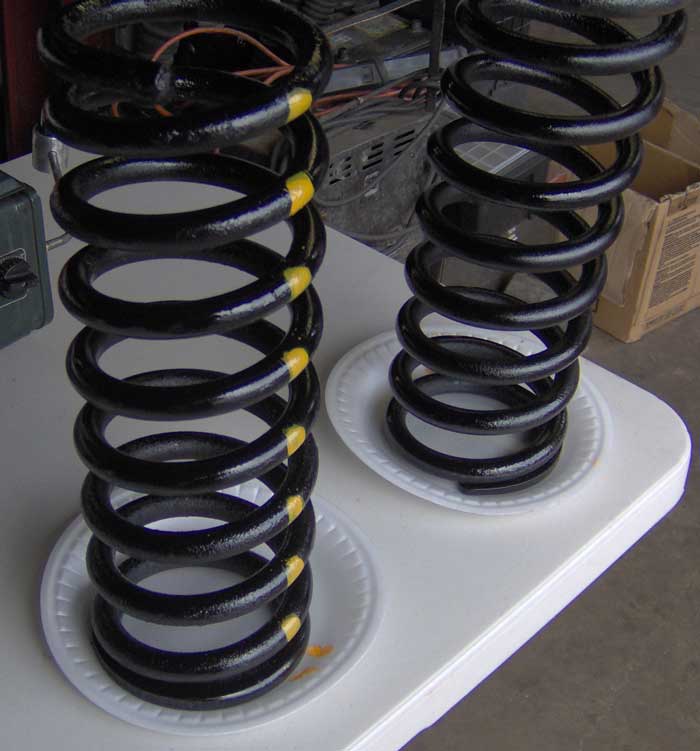 New stripe on spring.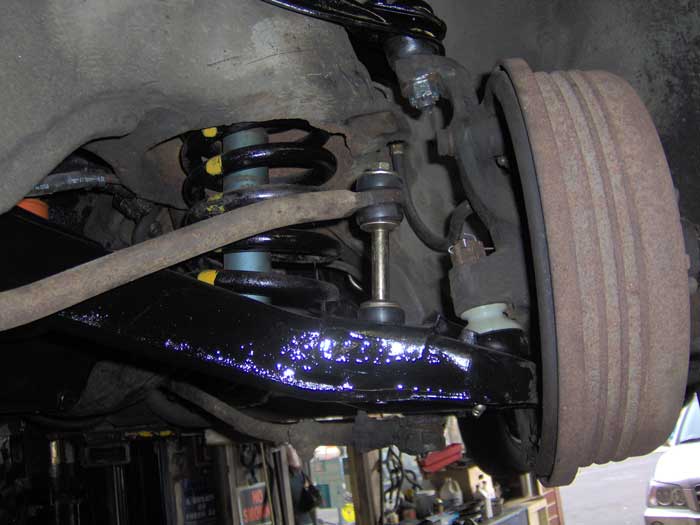 Newly installed painted control arms with new hardware. Note yellow stripe on spring. Also note the grease retainer for the new lower ball joint is nylon. The originals were rubber.