UNITY MFG CO. SPOTLIGHT/MIRROR DESIGNATORS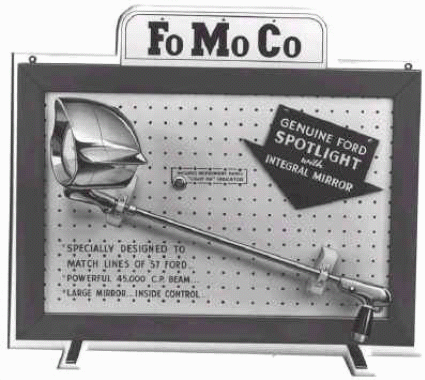 Let me preface this by saying that this information is about Spotlight/Mirrors of the mid to late 1950's. Some of the information provided was obtained directly from the Unity Manufacturing Company. Others from various sources on the internet. The following designators for Unity Manufacturing Company Spotlight/Mirror units are said to indicate what automobile company a Unity Spotlight/Mirror was made for. I obtained this from a website and not from the Unity Company. It is my understanding that they did not assign these designators to these units, but that the automobile manufacturers did when they had Unity Co. make these units for them.

First, here are some of the more common designators known to have been found on Unity Spotlight/Mirrors.
HL-1 – Is the "Winged" version with the square mirror. The "L" is said to indicate that it was made for the Lincoln Division of Fomoco.
H1-FM – Made for the Ford/Mercury Divisions of Fomoco.
H2-C – Said to made for Chevrolet, but also was used on Fomoco products by Tbird owners.

Here are the less commonly known designators.

AM – American Motors
C – Chevrolet or Mopar
CAD – Cadillac
F – Ford
FM – Ford/Mercury
FR – Fruehoff
GM – General Motors
GMC – GMC
H – Hudson
KF – Kaiser Fraiser
L – Lincoln
M – Mercury
N – Nash
P – Packard
R – Reo
S – Studebaker
U – Unity Co.
W – White
WO – Willys


Note: The Ford/Lincoln/Mercury units were also used on the Edsel. It is my understanding that the above designators were often prefaced with the letter "H", as in HL-1 or HC-2, for example. The Model number for these units was usually stamped into the base of the light, along with Unity Mfg. Co. or something similar to that. As I recall, the "Winged" HL-1 unit that I used to own, was stamped Unity Mfg. Co. HL-1.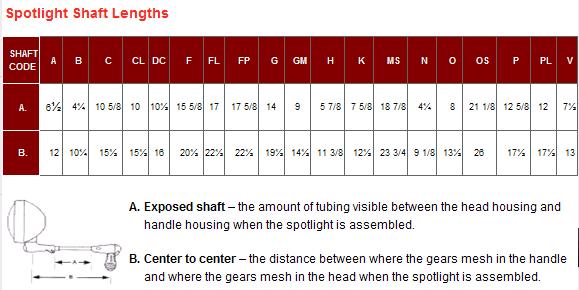 The only shaft for the lights made to work on our Tbirds or Fords of this era was Shaft Code C. on their listing. Shaft Code C has an "A" Exposed Shaft length of 10 5/8" and a "B" a Center to Center shaft length of 15 1/2", the distance between where the gears mesh in the handle and where the gears mesh in the head when the spotlight is assembled. The Unity Co. representative has told me that ONLY Shaft Code "C" will work on a Tbird.

Notice, when looking at the .PDF files I have uploaded, that starting with the 1955 Tbirds through 1960 Tbirds, that these units were fender mounted. From 1961-1978 they were post mounted. Also note that starting in 1958 the mounting bracket for the Tbirds was listed as Part #88, and also listed is the Part #130 mounting bracket. Part #130 is the mounting bracket listed for the 1959-1960 Squarebirds. NO right hand mounting bracket was made for them. Only after 1960, was a right hand unit made available. Note that, with the exception of 1955 Tbirds, 225C-U-I (6"Dia. Light) and 250C-U-I (5"Dia. Light) was used on all 1956-1960 Tbirds. Only in 1955 did they use a 125C-4535-U-I or 50C-4515-U-I Model.

Unity Spotlight/Mirror-Chevy '55-'60
Unity Spotlight/Mirror-Edsel
Unity Spotlight/Mirror-Ford Tbird '58-'78
Unity Spotlight/Mirror-Lincoln
Unity Spotlight/Mirror-Mercury '55-'60

A question that often comes up is regarding what to use if you want to mount a right hand side spotlight/mirror. It is my understanding that past Squarebird owners have used Right Hand Mercury spotlight/Mirror units and their mounting brackets. The Left Hand mounting bracket for the 1958 Mercurys is part #120 and the Right Hand mounting bracket #120RH. For the 1959-1960 Mercurys Left Hand mounting bracket is Part #131 and the Right Hand mounting bracket is Part #131RH. Notice that the Model # for the 6" & 5" spotlight/mirrors is 225P-U-I and 250P-U-I. However, it is my understanding that they are the same as the 225C-U-I and 250C-U-I units. So with a right hand Mercury unit and a right hand Mercury mounting bracket, people have been able to mount both left and right units. In addition, some have even adapted the square, non-winged unit, with the round mirror H2-C Chevy unit to work. One of our newer members has two H2-C units, left and right, on his 1960 430MEL Golde Top!

There is also information in these .PDF files as to what Unity units were used on Baby Birds.

Bulbs are available in 6 volt and 12 volt from GE and are number: GE H7635 (halogen) for the 6inch (12 volt). Unity Co. has them for $47.92. U-H7635. I am told that you can get those bulbs from "The Light House."

I will add any additional information regarding these Unit Spotlight/Mirrors as I obtain it.


Created 15 April, 2011

Last Edited: 15 April, 2011

Return To Technical Resource Library

Return to Squarebirds Home